Company Founder Glyn Wells Appears on The Dragon's Den TV Show
Rose of Tralee Sponsor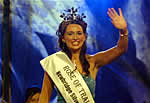 Gum and Smokes is proud to announce its sponsorship of the Rose of Tralee International Festival. We're doing our part to keep the streets of Tralee clean.

In conjunction with the Fels Point Hotel, Tralee, we are also sponsoring a clean smoking area for guests at the festival.
Tourist attraction Cliffs of Moher use custiomised Anti-Litter Pouches
In an effort to help tourists to better manage thier personal litter and cigarette waste, customised anti-litter pouches / pocket ashtrays are being distributed to visitors.

These pouches not only reduce clean-up costs but are also great advertisiment for the Cliffs as they are often retained by tourist when the return home.
County Roscommon County Council Distributes Gum & Smokes Pouches
To highlight the County's commitment to a cleaner environment, Roscommon County Council is distributing Gum & Smokes Anti Litter pouches.